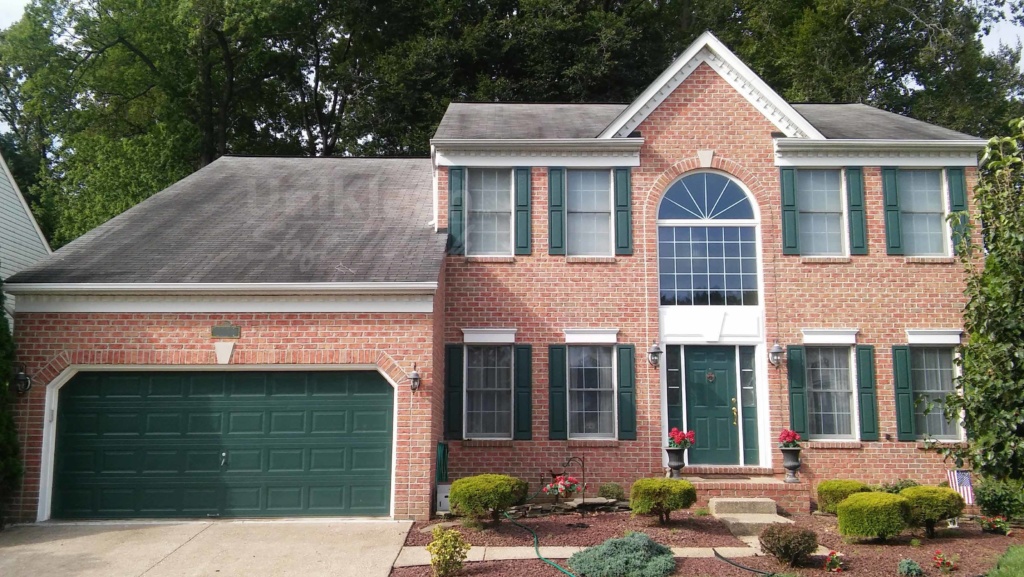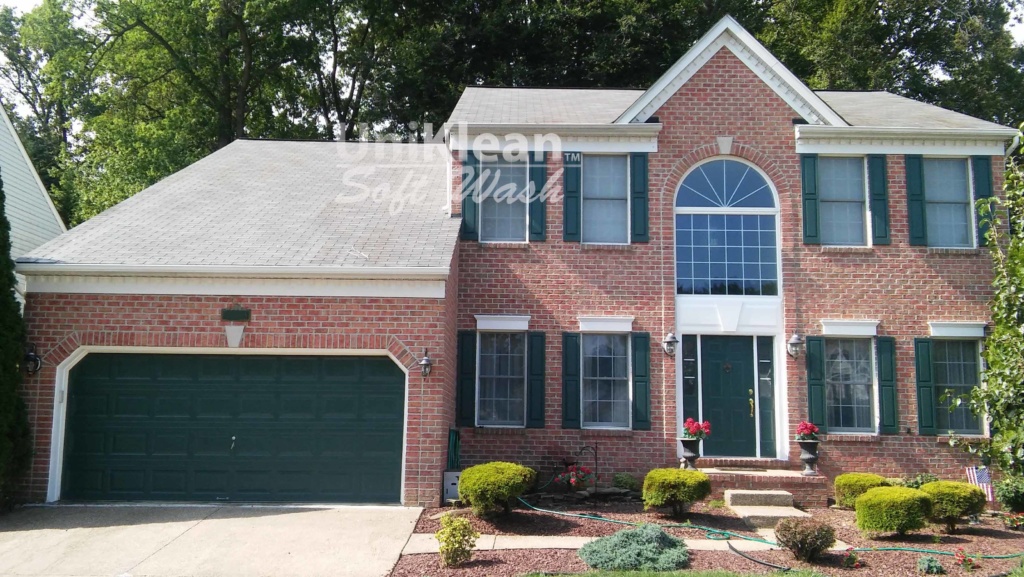 Fallston Roof Cleaning, Fallston MD
At UniKlean Soft Washing, we receive calls from customers every day who are concerned about their roof. Replacing a roof is a very expensive repair and many don't have the budget for it. There is a way to make a roof look amazing without paying the extreme replacement costs, it is called roof cleaning. Fallston Roof Cleaners has saved many people who thought they were going to have to replace their roof, but instead just had it professionally cleaned.
The Black Fungus Problem
Fallston Roof Cleaners, Fallston MD
Roof Cleaning Fallston MD happened because many people notice black stains on the shingles. These stains start out slowly but they soon overtake the entire roof area. This can happen to roofs that are just a few years old leaving the homeowner to think they have no other option but to replace the roof. This frustration is felt by most that experience the unsightly mess, as it can be quite an eyesore. The problem is not as uncommon as you would think. The black stuff is a fungus and even on shingles that are fungus resistant, it can still be a big problem.
Here in Fallston, even the best roof in the most upscale neighborhood can get this fungus. The excessive moisture and humid summers are often culprits for this unsightly black mess. When shingle manufacture applies fungus guard to the shingles, it usually only lasts for a couple of years and then the fungus can start growing. It is not uncommon for homes to have fungus start growing within 3-6 months after the protection wears off. In a humid climate like Fallston, it seems inevitable that homeowners will have to deal with fungus. If the fungus is not treated by a Roof Cleaning Fallston crew, it will spread and cover the entire roof.
A fungus is a natural thing that lives in soil. They can multiply quickly by the spores floating in the air. When they land on a specific surface, they will germinate. This fungus can feed on a kind of wood, or paper, not to mention your shingles. As the fungus sets in, they begin the process of destroying the surface they are growing on.
Fallston Roof Cleaning, Fallston MD
How Fungus Can Cost Big Money
Roof Cleaning Fallston MD can save your roof. The fungus will not only make your home look unsightly, but many studies have been done that show this fungus can be expensive to deal with. Did you ever think that the fungus could cause your utility bills to be larger than normal? Fungus actually causes the roof temperature to be hotter. This can cause the AC costs to be astronomical and worse yet it can shorten the lifespan of the AC unit.
Many studies have been conducted based on utility bills before and after a roof was cleaned and the results are staggering. Just by removing the fungus, it can lower the home's temperature up to 20 degrees. Some of the homes included in the study showed a drastic reduction in their monthly bill, up to $25. If the attic temperature drops a mere three degrees, this can impact your electric bill.
Fallston Roof Cleaners, Fallston MD
The roof will be of little use if the shingles have granule loss. The increased amount of heat also causes the shingles to expand and contract. This constant movement causes the shingles to loosen and fall off. It will have to be torn off and replaced. The problem is most people don't realize how dangerous those black streaks are.
Not only will the fungus eat away at the roof causing it to have to have to be replaced, but it can have an affected those in the home. If anyone in the home has allergies or asthma, this fungus can be deadly. Those with weekend immune systems and those with asthma should beware. These shingles that fall to the ground and the fungus on the roof have the potential to allow the deadly fungus into the home. The mold spores can become airborne and can enter the home. This breeding ground for mold and fungus can be tracked into the home and can cause flare-ups with allergies and asthma.
There are many opinions about Roof Cleaning Fallston MD. There are many people that believe they can power wash their own roof and it will come clean. The real problem with power washing is the excessive force can loosen shingles and while it may remove the visible fungus, it doesn't kill it. Most of the fungus will be washed away, but there are enough particles left behind to allow it for regrowth. A high-pressure hose can actually shorten the life of the roof by damaging the shingles; it can even take some of the colors off of them. By having a professional Fallston roof cleaning by UniKlean Soft Washing, you can extend the life of your roof and make the fungus mess go away.
Fallston Roof Cleaning, Fallston MD
Why UniKlean Soft Washing?
As a top-ranked service provider on Angie's List, we guarantee and stand behind our work. Our technicians are all bonded and insured and trustworthy individuals that can be allowed in the home or office. Our employees set the standard for the Fallston area and we only employ factory trained staff.
We take our job seriously and there is never a reason for customer dissatisfaction. Our goal is to extend the longevity of your roof and to make sure that your roof has no dangerous fungus remaining.
Call now to schedule an appointment 410-709-3776
Roof Washing Companies, Fallston MD
"When I first received the ad about UniKlean I was pretty skeptical. I never heard about the process and like everything I had to do my own Google research. My house was sitting for sometime before I purchased it and the previous owner neglected the exterior as you can tell from the pictures.The owner of UniKlean came out professionally dressed and presented me with a quote within a day. Before agreeing to the quote he answered my call every time I reached out and was very knowledgeable on the soft wash process.I reached out to other friends who had has their homes pressure washed recently and found out that they needed to get it redone just a year later. Here's what sold me - found out that pressure washing takes off just the surface of the growth but soft washing goes deep into the root of the issue.They also went above and beyond to clean my house which I found out is their normal process. They climbed up and down the ladder multiple times when they saw something they didn't like. My house is completely transformed. My neighbors complemented me multiple times on how great it looks. HIRE this company! I don't write many reviews but I was so blown away that I had to submit a review for this one!!!"
"Quick response for estimate and work. Fair pricing. Exceptional job! Highly recommend!!"
"UniKlean did a phenomenal job! The soft wah looks great"
"Very professional, great attention to detail - Awesome job all around. Made an incredible difference in how our house looks. We live in the woods and with all the rain this year had a lot of green mold on our siding. GONE! Gutters and windows look great too. Couldn't be happier. Highly recommend!"
Call 410-709-3776
Anyone we send into your home has been background checked & drug tested to give you PEACE OF MIND