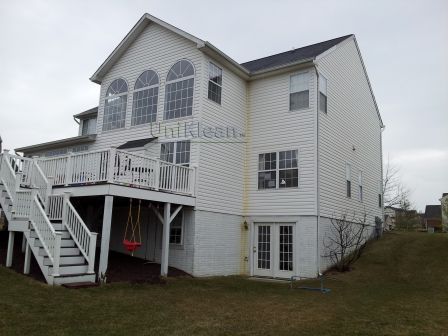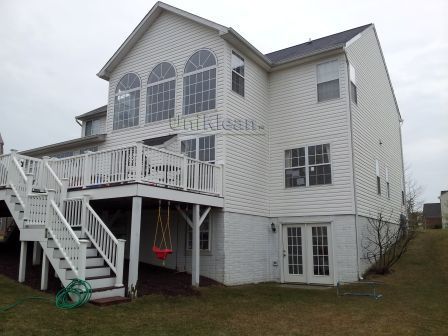 Rust Removal Baltimore
There is nothing more annoying, or bothersome than rust stains and getting rid of rust stains is a task not easily accomplished. But when it comes to rust stain removal Baltimore MD has a company that gets the job done consistently and effectively each and every day.
UniKlean Pressure Washing is the number one source for rust removal Baltimore has to offer. We take pride in what we do and are so confident in our work that we guarantee it. Our uniformed, factory trained technicians are entrusted with the task of providing a service that goes above and beyond that of any other company providing rust removal services in the area. We provide consistent, reliable service to each of our customers daily which is exactly what has made us the best choice for rust removal Baltimore MD has to offer.
There is nothing worse than finding rust stains on concrete. It is an eyesore that can prove to be extremely difficult to remove without the proper knowledge and skills. Finding a professional company that you can trust to get the job done right is, typically, easier said than done. But when it comes to rust stain removal from concrete Baltimore MD company UniKlean Pressure Washing offers the best rust removal service around.
Rust stains are as difficult to remove as they are annoying. There are countless "quick fix" solutions available these days but the majority of them only make things worse than they were, to begin with. Typical rust removers contain acids that will eat away at concrete stripping it of its cement paste but the problems don't end there. Once the acid in these rust removers has stripped the cement paste from the cement itself, it creates a micro-aggregate or etched surface that quickly surrounds the orange coloring from the acid burn.
The damage caused by typical store-bought rust removers is, in most cases, permanent and much harder to deal with than the original rust stain that you began with. Even worse is the fact that most of the rust stain will have yet to be removed. In fact, there is a good chance that the rust remover used will discolor the concrete, turning it white or increasing the orange discoloration. So basically, typical store-bought rust stain removers have the ability to cause more damage than good.
If there were ever a reason for someone to bring in a professional, to get a job done, this would have to be it. UniKlean Pressure Washing provides customers with the best rust removal Baltimore has to offer. Our stain removal techniques are of the highest quality and are more effective than any other stain removal technique available today. We provide rust removal from more than just concrete. In fact, our proven method is effective on siding, sidewalks, shingles, rubber, vinyl, brick, stucco, tile, asphalt, stone and much more!
At UniKlean Pressure Washing, we use only the best because we believe our customers deserve the best. The days of attempting to brush or scrub rust stains away, with store bought chemicals, are days of the past. Our rust stain removal technique utilizes a specially formulated chemical made to do more than just clean away the stain. If the desired goal were to simply clean away a rust stain, then anyone could accomplish the task. Our goal is to clean away the stain while restoring the area that was affected by the rust as much as possible.
Rust Stain Remover, Baltimore MD
When a rust stain removal job has been completed by UniKlean Pressure Washing, you can expect more than just rust stains to be removed. You can also expect an 80-100% reversal of the orange staining and almost complete restoration of the concrete to its natural bright gray color in many cases. UniKlean Pressure Washing provides the best rust stain removal from concrete Baltimore MD has ever experienced. The quality of our service is unmatched and this we guarantee.
The annoyances of rust stains should never become too much to bear especially with the quality rust stain removal Baltimore MD company UniKlean Pressure Washing provides customers each day. If you find yourself in a fix and need the best rust removal Baltimore MD can offer, consider UniKlean Pressure Washing and worry no more!
Call now to schedule an appointment 410-709-3776
"When I first received the ad about UniKlean I was pretty skeptical. I never heard about the process and like everything I had to do my own Google research. My house was sitting for sometime before I purchased it and the previous owner neglected the exterior as you can tell from the pictures.The owner of UniKlean came out professionally dressed and presented me with a quote within a day. Before agreeing to the quote he answered my call every time I reached out and was very knowledgeable on the soft wash process.I reached out to other friends who had has their homes pressure washed recently and found out that they needed to get it redone just a year later. Here's what sold me - found out that pressure washing takes off just the surface of the growth but soft washing goes deep into the root of the issue.They also went above and beyond to clean my house which I found out is their normal process. They climbed up and down the ladder multiple times when they saw something they didn't like. My house is completely transformed. My neighbors complemented me multiple times on how great it looks. HIRE this company! I don't write many reviews but I was so blown away that I had to submit a review for this one!!!"
"Quick response for estimate and work. Fair pricing. Exceptional job! Highly recommend!!"
"UniKlean did a phenomenal job! The soft wah looks great"
"Very professional, great attention to detail - Awesome job all around. Made an incredible difference in how our house looks. We live in the woods and with all the rain this year had a lot of green mold on our siding. GONE! Gutters and windows look great too. Couldn't be happier. Highly recommend!"
Call 410-709-3776
Anyone we send into your home has been background checked & drug tested to give you PEACE OF MIND