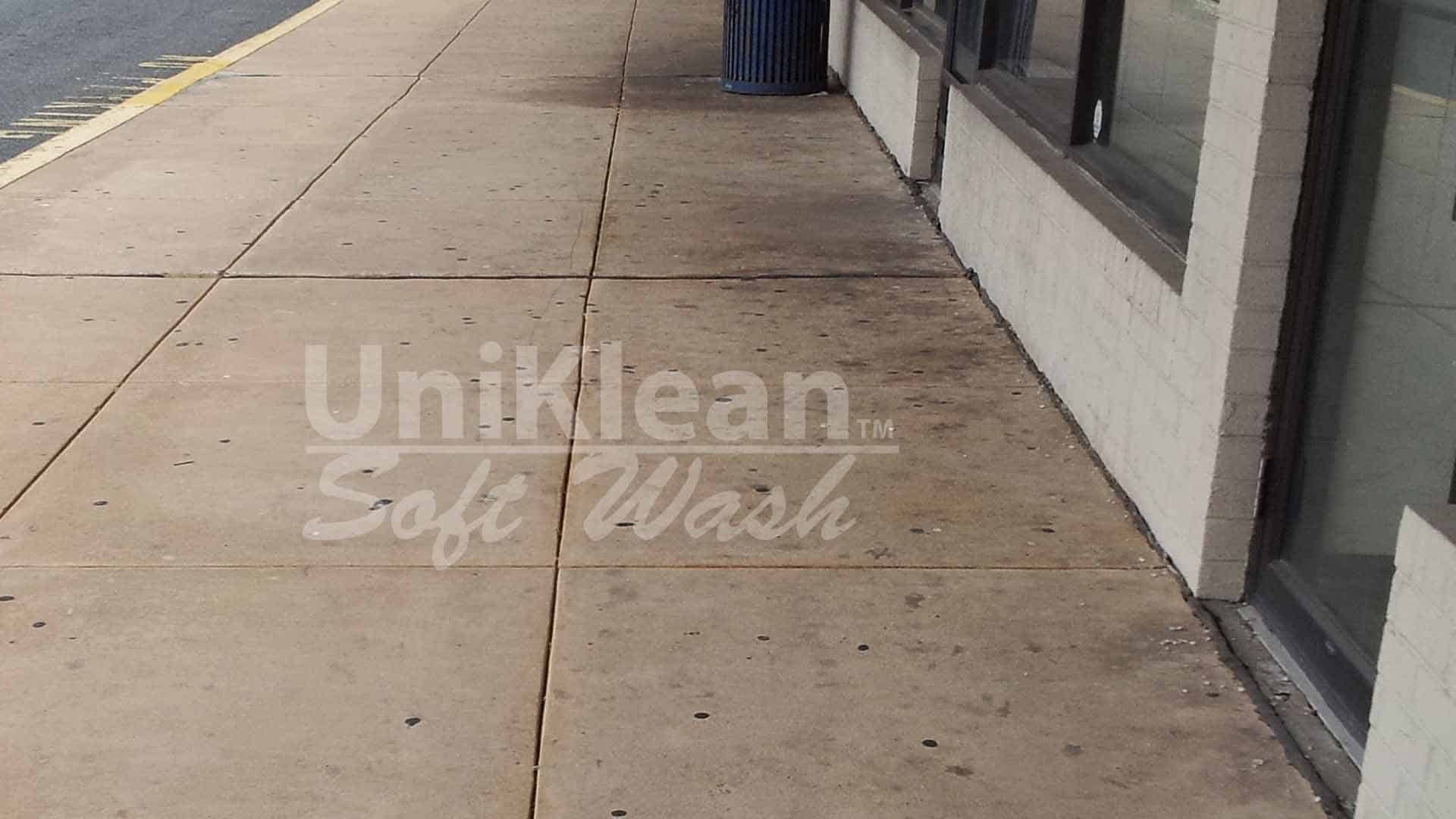 Harness the power of a natural solution to handle your Baltimore chewing gum removal needs thanks to the professionals at UniKlean Pressure Washing. Keep your sidewalks and other concrete and brick surface clean with fast, efficient chewing gum removal Baltimore MD homeowners and business owners can count on. End the frustration of trying to get gum off your outdoor surfaces by calling us to take care of it quickly. Our experienced technicians use state-of-the-art technology and environmentally-friendly products whenever possible to leave your surfaces clean.
Chewing Gum Removal Baltimore MD
While Baltimore is certainly a beautiful city, gum can find it's way onto just about any outdoor surface anywhere. As a member of the Professional Cleaners Association, we take our job seriously at UniKlean Pressure Washing. Gum can get on any outdoor surface. Depending on what the surface is, gum can really attach itself to the point where it's impossible to completely remove it without risking damage to the particular surface it's attached to, whether it be stone, stamped or regular concrete, marble or brick. The best way to remove gum from a particular surface is to break the bond it has on that surface. We accomplish this goal by using special cleaners combined with the power of pressure washing
Our Approach to Chewing Gum Removal
A combination of hot steam and water pressure acts to break down the sticky substances in gum and remove it from the surface. Since no scrapping or sharp knives have to be used to remove the gum, your sidewalks, walkways, and patios aren't damaged during the removal process. Gum simply consists of a material called chicle mixed with flavorings. When discarded, however, it becomes gooey and sticky. The longer the gum remains in place, the more difficult it is to easily remove it. Our approach to Baltimore chewing gum removal includes:
• Combining the right blend of cleaning agents for the stain
• Using modern machines and various cleaning tools and accessories
• Applying special cleaners to eliminate the oily residue left from gum removal
• Carefully inspecting our work to ensure that all gum was removed
Baltimore Chewing Gum Removal, Baltimore MD
Delivering Quality Results from Trusted Professionals
When you call UniKlean Pressure Washing for an appointment, we'll send a fully trained, uniformed cleaning specialist to your home or business. We'll assess the stain and determine the best approach for gum removal. Contrary to popular belief, pressure washing isn't simply a powerful blast of water. The power of the spray, which is a combination of water and steam, is carefully controlled and applied in a way that the force won't damage your property. After we combine the right blend of cleaners, the water is applied at the predetermined pressure and gum breaks up as it's removed. See for yourself why we're a premier choice for chewing gum removal Baltimore MD residents rely on to get the job done right. We're proud to be a top-rated Angie's List service provider.
Call today to schedule an appointment for Baltimore Chewing Gum Removal from UniKlean Pressure
 Call now to schedule an appointment 410-709-3776
"When I first received the ad about UniKlean I was pretty skeptical. I never heard about the process and like everything I had to do my own Google research. My house was sitting for sometime before I purchased it and the previous owner neglected the exterior as you can tell from the pictures.The owner of UniKlean came out professionally dressed and presented me with a quote within a day. Before agreeing to the quote he answered my call every time I reached out and was very knowledgeable on the soft wash process.I reached out to other friends who had has their homes pressure washed recently and found out that they needed to get it redone just a year later. Here's what sold me - found out that pressure washing takes off just the surface of the growth but soft washing goes deep into the root of the issue.They also went above and beyond to clean my house which I found out is their normal process. They climbed up and down the ladder multiple times when they saw something they didn't like. My house is completely transformed. My neighbors complemented me multiple times on how great it looks. HIRE this company! I don't write many reviews but I was so blown away that I had to submit a review for this one!!!"
"Quick response for estimate and work. Fair pricing. Exceptional job! Highly recommend!!"
"UniKlean did a phenomenal job! The soft wah looks great"
"Very professional, great attention to detail - Awesome job all around. Made an incredible difference in how our house looks. We live in the woods and with all the rain this year had a lot of green mold on our siding. GONE! Gutters and windows look great too. Couldn't be happier. Highly recommend!"
Contact
Anyone we send into your home has been background checked & drug tested to give you PEACE OF MIND.