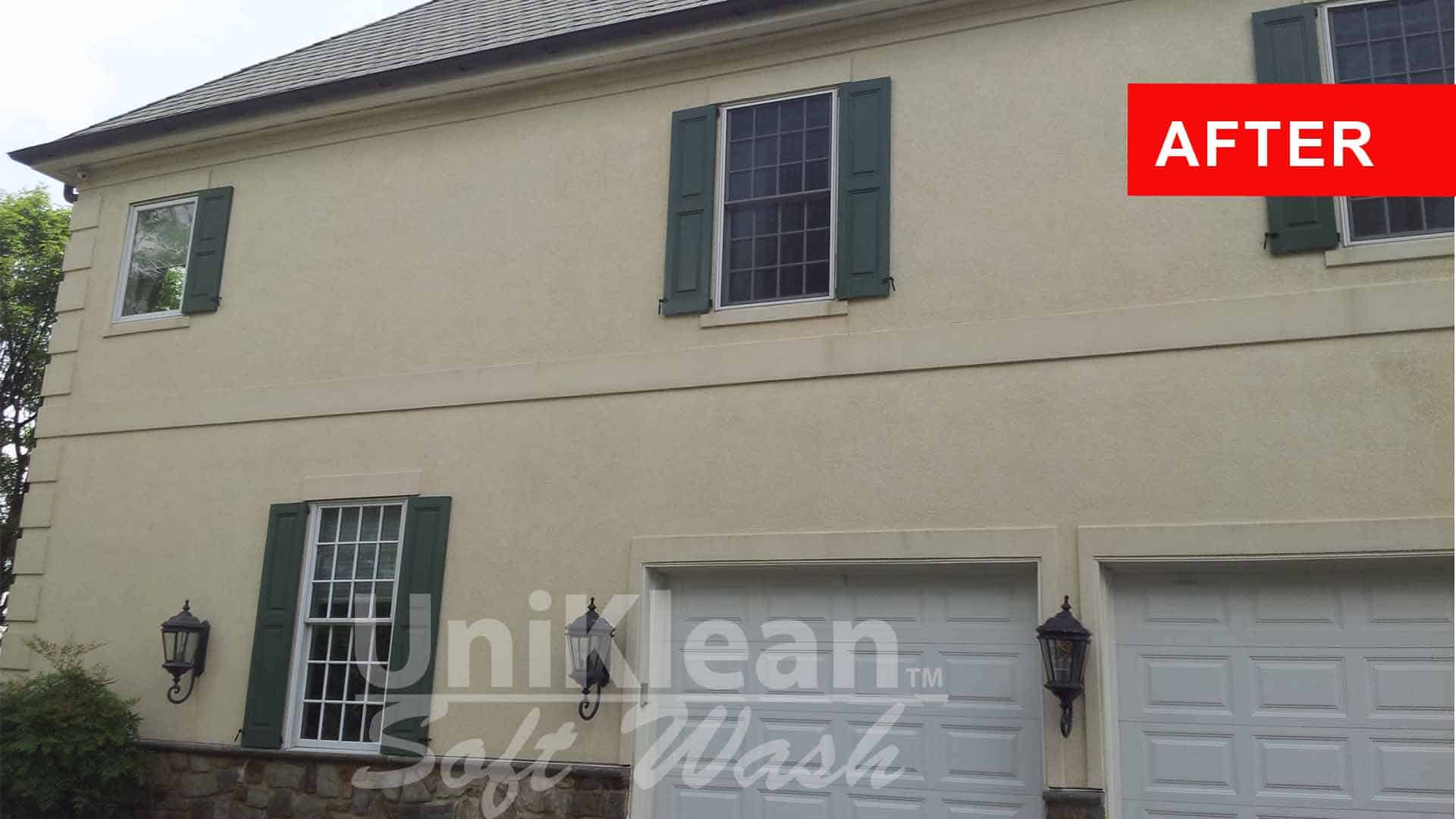 Stucco Cleaning
They are happy to announce the soft wash stucco cleaning, and with UniKlean soft wash company, they are here to serve you. They are here to serve the customers, as they are better than other companies. They serve the customers with stucco cleaning as they are fully trained and certified in the industry standards. They make sure that your stucco is safe, efficient and complete. Baltimore Stucco Cleaning is a serious cleaning service, as they are called the software experts. They can wash your stucco with low pressure, but our safe friendly products are here to clean your products and it takes away the mildew.
Stucco Cleaning Baltimore MD is a residential and Commercial cleaning system that professionally cleans dirt from any surface. They are bonded and insured as you can be confident that our technicians are factory trained, and you can trust them to be in your home or office. They guarantee the service, and they are highly trained. They can professionally clean the dirt from any surface, and they clean everything from concrete walkways to wood decks. The Baltimore Stucco Cleaning company is a customer service center, and our motto is that the customer is always right. They offer customer satisfaction, and they are a family owned business that serves this entire area. There is no job too big or small for our soft washing system.
UniKlean Stucco Cleaning Baltimore MD provide services for residential and Commercial properties. This is the first step to cleaning your stucco walls, as it can be washed in just three easy steps. Starting at the bottom, they wet the wall, with a stream nozzle and wash down the dirt against the lower portion of the wall. Wash the dirt away by flushing down the dirty water. The stucco walls provide a protective covering over a weather barrier. You should wash this on a minimal basis to keep the stucco walls very attractive for many years. This should be done to any building constructed of wood, masonry or any other material.
Baltimore Stucco Cleaning Baltimore MD
This is a wonderful place to live and play, and this is the temperature to grow mold and mildew year round. If you want to spruce up your lawn then you need to grow some trees as these can help you. It instantly provides great results with the cleaning system. This was in need of serious cleaning, and they called the software experts to clean this. With our safe and gentle procedure, they clean away the mildew with UniKlean soft wash system. With UniKlean soft wash system, they save the customers a lot of money. Baltimore Stucco Cleaning provides a low-pressure wash in which it delivers a customized cleaning solution. This is a special blend to meet the demands of each person.
With this solution, it is different from the pressure washing, and it is different because it applies it at a low pressure. With our stucco cleaning Baltimore MD, our cleaning solution is custom mixed at our site and then it is applied, as this is what keeps our cost very low. Call now to schedule an appointment 410-877-6844
Baltimore Stucco Cleaning
"When I first received the ad about UniKlean I was pretty skeptical. I never heard about the process and like everything I had to do my own Google research. My house was sitting for sometime before I purchased it and the previous owner neglected the exterior as you can tell from the pictures.The owner of UniKlean came out professionally dressed and presented me with a quote within a day. Before agreeing to the quote he answered my call every time I reached out and was very knowledgeable on the soft wash process.I reached out to other friends who had has their homes pressure washed recently and found out that they needed to get it redone just a year later. Here's what sold me - found out that pressure washing takes off just the surface of the growth but soft washing goes deep into the root of the issue.They also went above and beyond to clean my house which I found out is their normal process. They climbed up and down the ladder multiple times when they saw something they didn't like. My house is completely transformed. My neighbors complemented me multiple times on how great it looks. HIRE this company! I don't write many reviews but I was so blown away that I had to submit a review for this one!!!"
"Quick response for estimate and work. Fair pricing. Exceptional job! Highly recommend!!"
"UniKlean did a phenomenal job! The soft wah looks great"
"Very professional, great attention to detail - Awesome job all around. Made an incredible difference in how our house looks. We live in the woods and with all the rain this year had a lot of green mold on our siding. GONE! Gutters and windows look great too. Couldn't be happier. Highly recommend!"
Call now 410-709-3776
Anyone we send into your home has been background checked & drug tested to give you PEACE OF MIND