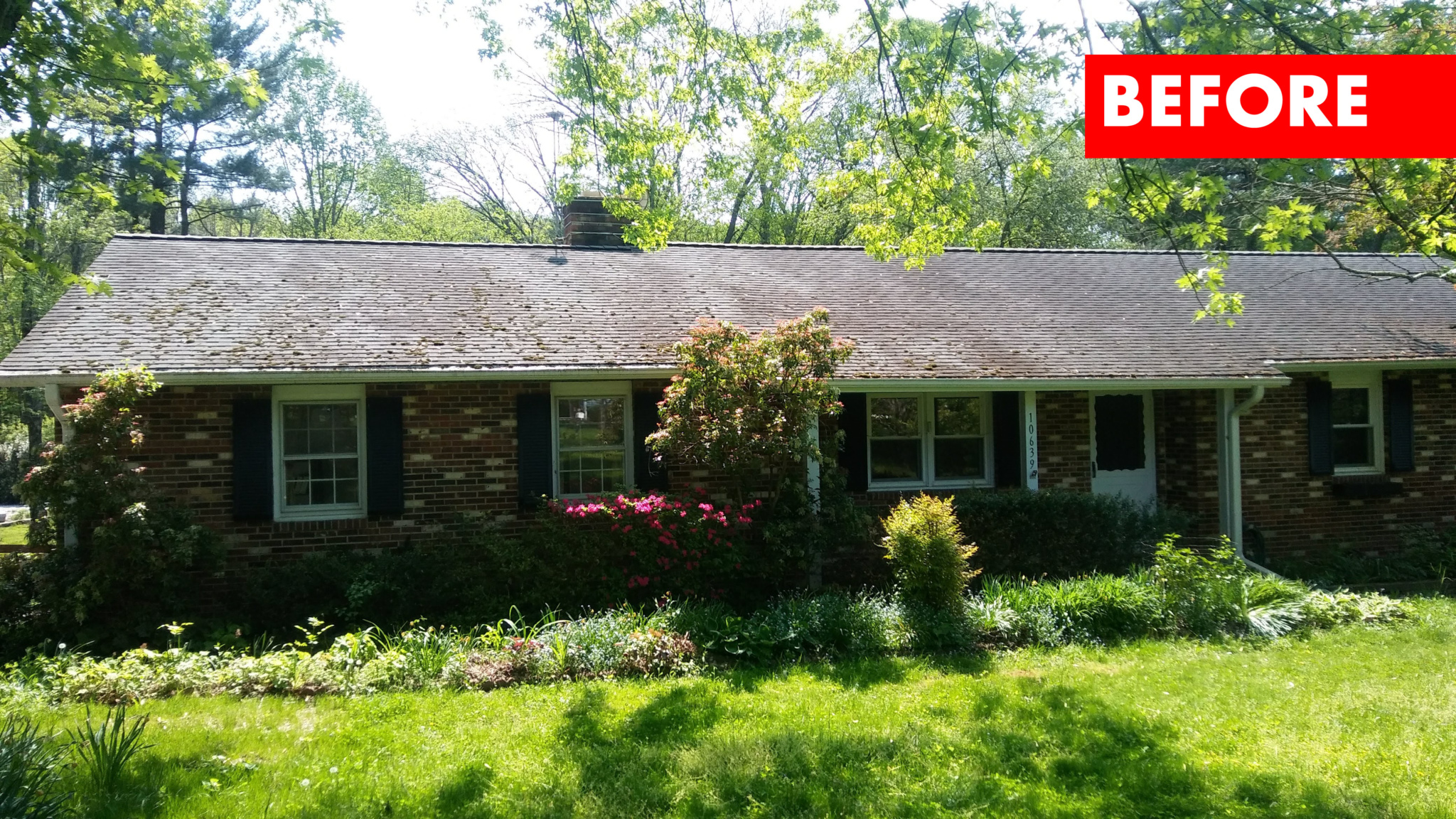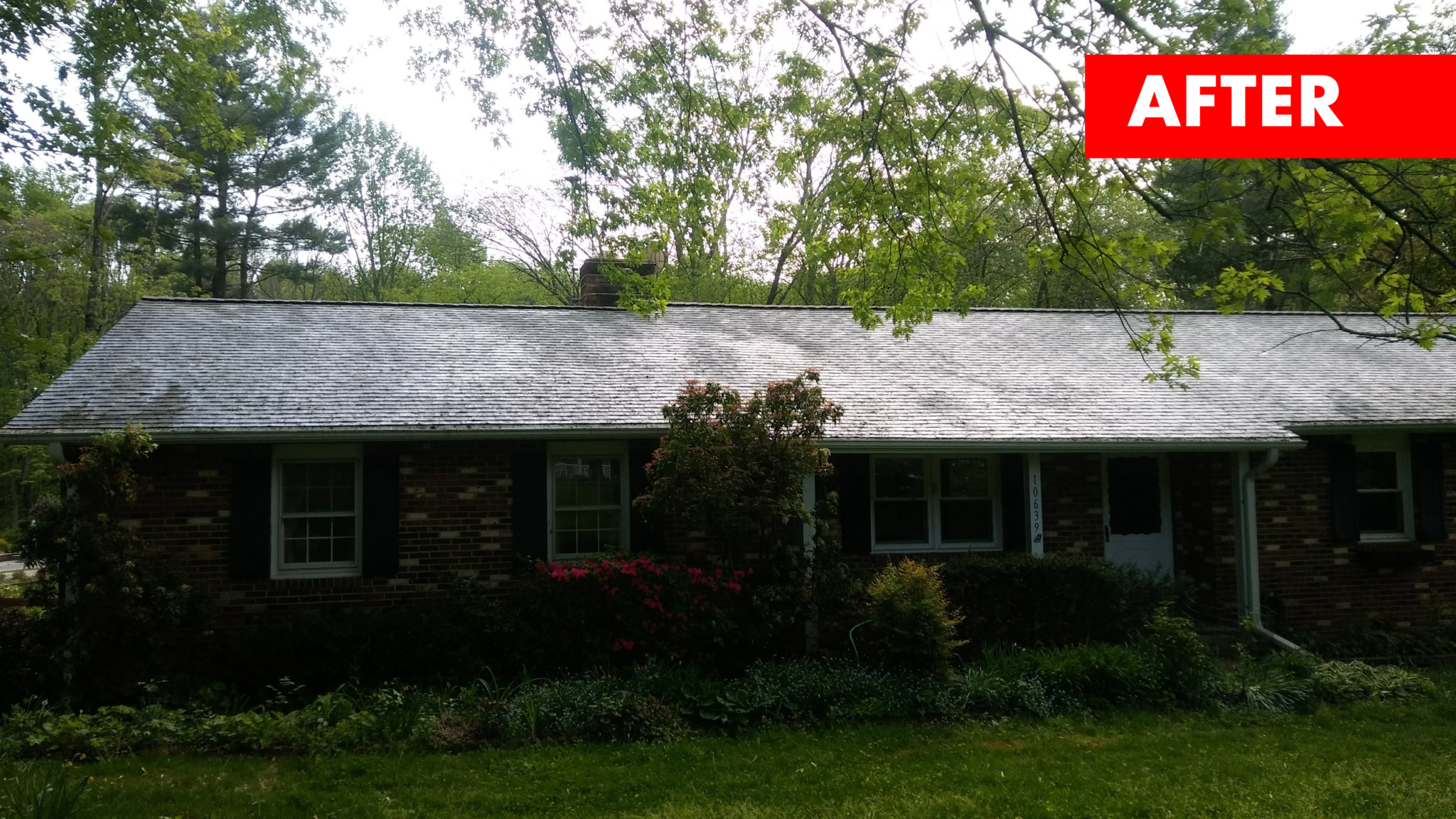 Moss Removal From Roof Baltimore MD
UniKlean Pressure Washing is a top-rated company in the area of Baltimore moss removal from the roof. Recognized on Angie's List and highly recommended, they belong to the Professional Cleaners Association and boast a team of professional technicians that have been factory trained and qualified to provide service meeting with the highest standards in the cleaning industry. As representatives of the UniKlean Pressure Washing company our technicians are known for their knowledge, skill an efficiency with regards to moss removal from roof Baltimore MD.
Baltimore moss removal from roof provides solutions to homeowners who understand the value of preserving the integrity of their home from the roof down. Being familiar with the challenges presented by moss means knowing that it depends on an environment rich in moisture. Once moss spores have ripened a nice breeze may carry them to a moist spot usually out of direct sunlight for them to begin growing. Moss spores don't require much space to take up residence.
Often an imperfection in roofing material provides just the conditions they need to take hold and flourish, especially if the roof happens to be shaded by a beautiful tree. The good news is that a well-maintained roof will be less likely in need of replacement so the team for moss removal from roof Baltimore MD at UniKlean Pressure Washing will know just how to handle the job. Underestimating the power of moss spores could be disastrous. If you live in a location where roof moss is a common issue, then being prepared to keep it under control will be absolutely necessary.
It doesn't take much time in the shade for moss to develop. A little lack of sun is all the promotion needed to get it well on its way to becoming a full-blown problem. When moss grows it thickens and may become like a pry bar under the shingles of any roof. Wood shingles are the worst because the porous nature of wood allows moss to form a stronger adherence to the material itself. It's considerably more difficult to remove moss from wood than from other composite materials with smoother surfaces. However, UniKlean has been working on aged homes in Baltimore with all types of roofing material. We have proven our ability for moss removal from roof Baltimore MD.
There are several methods one may take in the process of removing moss from the roof of a home. Whether zinc strips are the material of preference or copper sources are used to prevent the continued growth of moss, the tedious work of separating shingles and removing moss is certainly a job best left to professionals who are familiar with what to expect as well as what would be required to eliminate the current problem without making it worse.
Another consideration is the removal of any trees that provide shade by hanging over the roof and preventing sunlight from drying it after periods of rain. By taking the necessary steps to repair the roof and removing any contributors to the production of moss the roof may be saved and future damage prevented. Even just trimming back a few branches may make a significant difference without causing the total loss of appeal to the yard because of tree removal.
On the other hand, if moss has become thick and hearty because of prolonged wetness an extensive roof repair, including the roof decking, may be in order. Make sure to have a professional be the judge as to what extent of repair would be in the best interest of preserving the roof surface and preventing future problems with moss due to moisture pockets.
Experience is certainly beneficial when working in high places with such delicate materials. One suggested the method of annual preventative measures would be to use a special solution on an annual basis to clean any moss that may have had an opportunity to develop after a repair was completed. Regardless of what material your roof is made of, whether it's asphalt, metal, concrete tiles, clay or wood, an accumulation of moss on the roof can be devastating. Especially during seasons of increased rainfall and high humidity would homeowners want to be alert to call the team from UniKlean for their Baltimore moss removal from the roof.  Call now to schedule an appointment 410-709-3776
Moss Removal From Roof Baltimore MD
"When I first received the ad about UniKlean I was pretty skeptical. I never heard about the process and like everything I had to do my own Google research. My house was sitting for sometime before I purchased it and the previous owner neglected the exterior as you can tell from the pictures.The owner of UniKlean came out professionally dressed and presented me with a quote within a day. Before agreeing to the quote he answered my call every time I reached out and was very knowledgeable on the soft wash process.I reached out to other friends who had has their homes pressure washed recently and found out that they needed to get it redone just a year later. Here's what sold me - found out that pressure washing takes off just the surface of the growth but soft washing goes deep into the root of the issue.They also went above and beyond to clean my house which I found out is their normal process. They climbed up and down the ladder multiple times when they saw something they didn't like. My house is completely transformed. My neighbors complemented me multiple times on how great it looks. HIRE this company! I don't write many reviews but I was so blown away that I had to submit a review for this one!!!"
"Quick response for estimate and work. Fair pricing. Exceptional job! Highly recommend!!"
"UniKlean did a phenomenal job! The soft wah looks great"
"Very professional, great attention to detail - Awesome job all around. Made an incredible difference in how our house looks. We live in the woods and with all the rain this year had a lot of green mold on our siding. GONE! Gutters and windows look great too. Couldn't be happier. Highly recommend!"
Call 410-709-3776
Anyone we send into your home has been background checked & drug tested to give you PEACE OF MIND