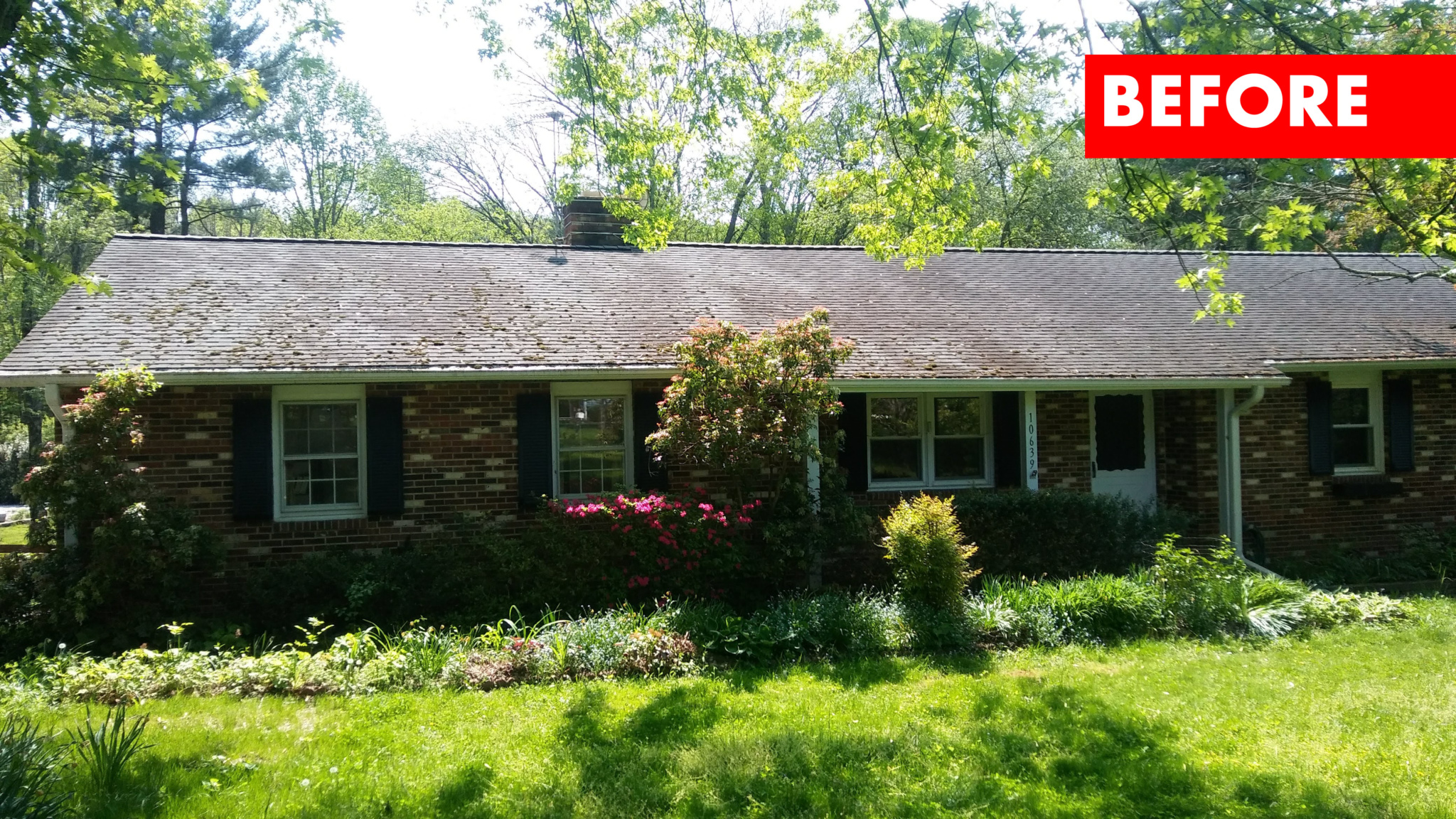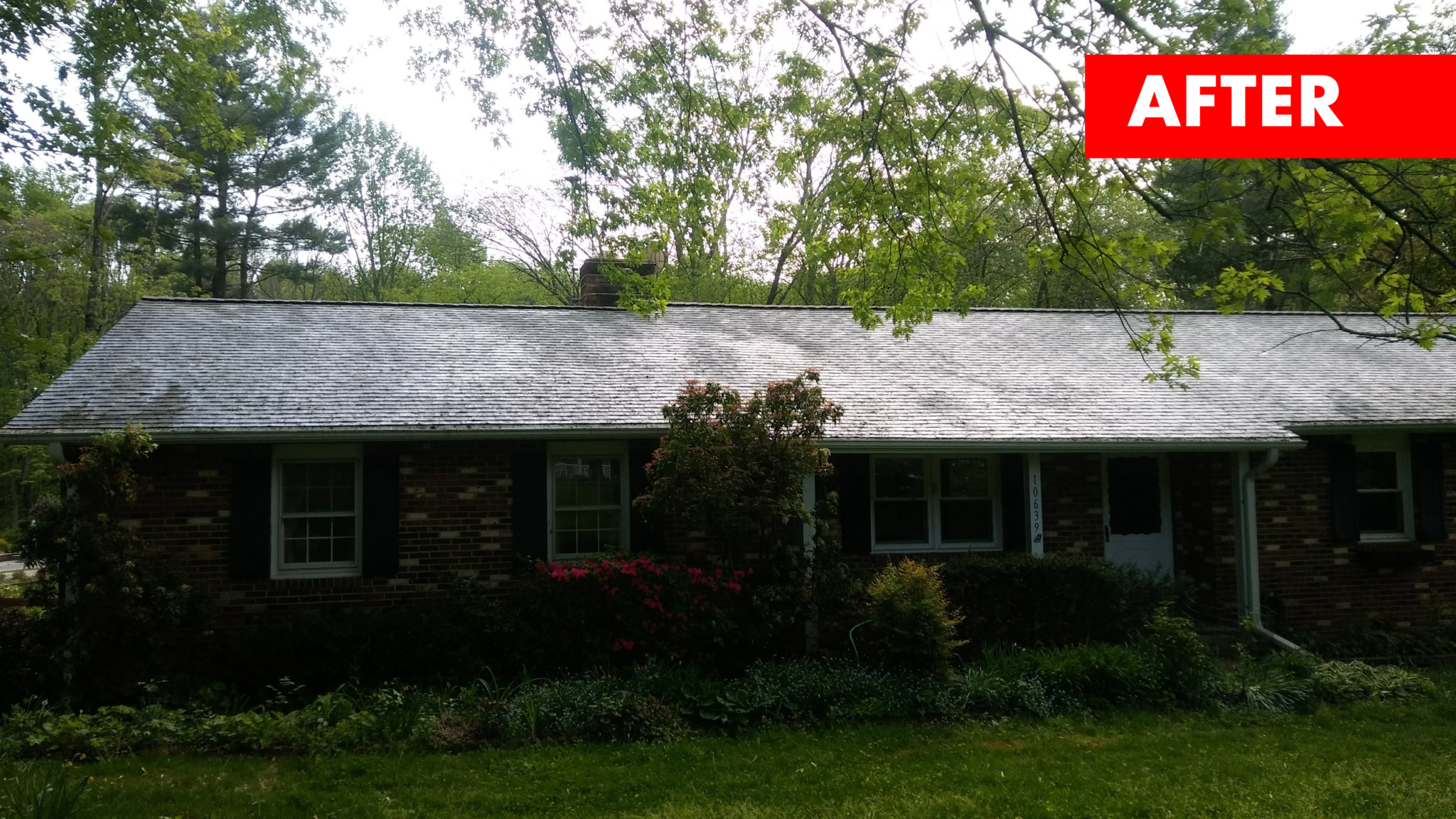 Roof Moss Removal Bel Air MD
Bel Air Roof Moss Removal
Are Your Roof Shingles Turning Black?
It is a terrible thing as a homeowner to look up at your roof only to notice that your shingles are developing black stains on them. This is especially bad if your roofing shingle is fairly new. In most cases when new to old roofing shingle begin turning black this means that roofing materials are infected with fungus, algae or moss. In severe cases, the black stains will begin to turn green and actual moss patches will begin to form.
Hire Bonded and Insured Professionals
Once you notice moss, fungus or algae developing on your roofing shingle it is very important that you treat it fast in order to prevent the roofing problem from getting worse. In many cases, you can remove the moss without any damage having been caused to the roof. However, if you wait too long to treat the problem then you might end up needing to have your whole roof replaced.
If you're in the market for a Bel Air roof moss removal service then be sure to contact us. We're licensed, bonded and fully insured. We operate a company called UniKlean Pressure Washing. We have decades of experience in treating all roofing problems including moss removal. Our Bel Air roof moss removal services are also fully guaranteed and extremely affordable.
Decades of Experience
At Roof Washing Bel Air MD, we offer Bel Air roof moss removal done right. With decades of experience at effectively treating moss problems, we know exactly what to do in order to treat your roofing shingles quickly and professionally. When treating a moss problem on your shingles it is important that you hire a company that knows what they're doing. Hiring an inexperienced service provider could mean that the job will be done incorrectly. If you hire us then you can be certain that your moss, fungus or algae problem will be properly removed.
Roof Moss Can Cause Health Problems
Many homeowners do not realize that roof moss, fungus and algae can cause more problems than just the kind that affects your home. It is scientifically proven that moss, fungus, and algae on your home can cause severe allergic reactions, respiratory problems, headaches or migraines, nasal infections, sore throats, body aches and more. What happens is the moss, algae or fungus releases spores into the air that are small enough to find their way into a person's body. Over time these spores will begin to cause a broad array of health issues. Therefore it is important when hiring a roof moss removal Bel Air MD service that they do the job thoroughly so that problem won't pose a health risk to you and your family.
Roof Cleaning Bel Air MD is Top Rated
Our company is a top rated service on the popular service rating website known as Angie's List. In fact, we're known as the most professional service for roof moss removal Bel Air MD. To check out just how well reviewed we are sure to read through our excellent online reviews.
Don't Do The Job Yourself
Cleaning your own roof or treating a moss infection yourself is not recommended. You need expensive equipment and expert skills in order to treat a moss problem properly and safely. You also want to make sure that the problem does not return. Professional moss removal services such as ours will make sure that the job is done exactly as it should be. We are the premier moss removal Bel Air MD. Give us a call and we'll come out to give you an on-site cost appraisal for treating your roof.
Another problem with treating your roofing moss yourself is that it is very dangerous. Moss, fungus, and algae can make your roof extremely slippery. If you attempt to walk around on your slippery roof then you could become severely injured. Our expert roof cleaners know the risks well and thus we make sure that we have all the necessary and required safety equipment that is needed to get the job done safely.
We Have The Friendliest Staff
At UniKlean Pressure Washing, we not only have the most professional, experienced and affordable services, we also have the friendliest staff in the business. You'll find that dealing with our service personnel is extremely stress-free and easy. Our roofing cleaning experts are great communicators and they'll explain to you exactly what needs to be done to address your roofing problem.
Give Us a Call Today
Don't let your roofing or moss problem go untreated. Give us a call today and we'll send one of our experts out to your home to inspect the problem. Once we've seen the issue we'll tell you exactly what needs to be done in order to treat it. Call now to schedule an appointment 410-709-3776
Roof Moss Removal, Bel Air MD
"When I first received the ad about UniKlean I was pretty skeptical. I never heard about the process and like everything I had to do my own Google research. My house was sitting for sometime before I purchased it and the previous owner neglected the exterior as you can tell from the pictures.The owner of UniKlean came out professionally dressed and presented me with a quote within a day. Before agreeing to the quote he answered my call every time I reached out and was very knowledgeable on the soft wash process.I reached out to other friends who had has their homes pressure washed recently and found out that they needed to get it redone just a year later. Here's what sold me - found out that pressure washing takes off just the surface of the growth but soft washing goes deep into the root of the issue.They also went above and beyond to clean my house which I found out is their normal process. They climbed up and down the ladder multiple times when they saw something they didn't like. My house is completely transformed. My neighbors complemented me multiple times on how great it looks. HIRE this company! I don't write many reviews but I was so blown away that I had to submit a review for this one!!!"
"Quick response for estimate and work. Fair pricing. Exceptional job! Highly recommend!!"
"UniKlean did a phenomenal job! The soft wah looks great"
"Very professional, great attention to detail - Awesome job all around. Made an incredible difference in how our house looks. We live in the woods and with all the rain this year had a lot of green mold on our siding. GONE! Gutters and windows look great too. Couldn't be happier. Highly recommend!"
Contact us 410-709-3776
Anyone we send into your home has been background checked & drug tested to give you PEACE OF MIND