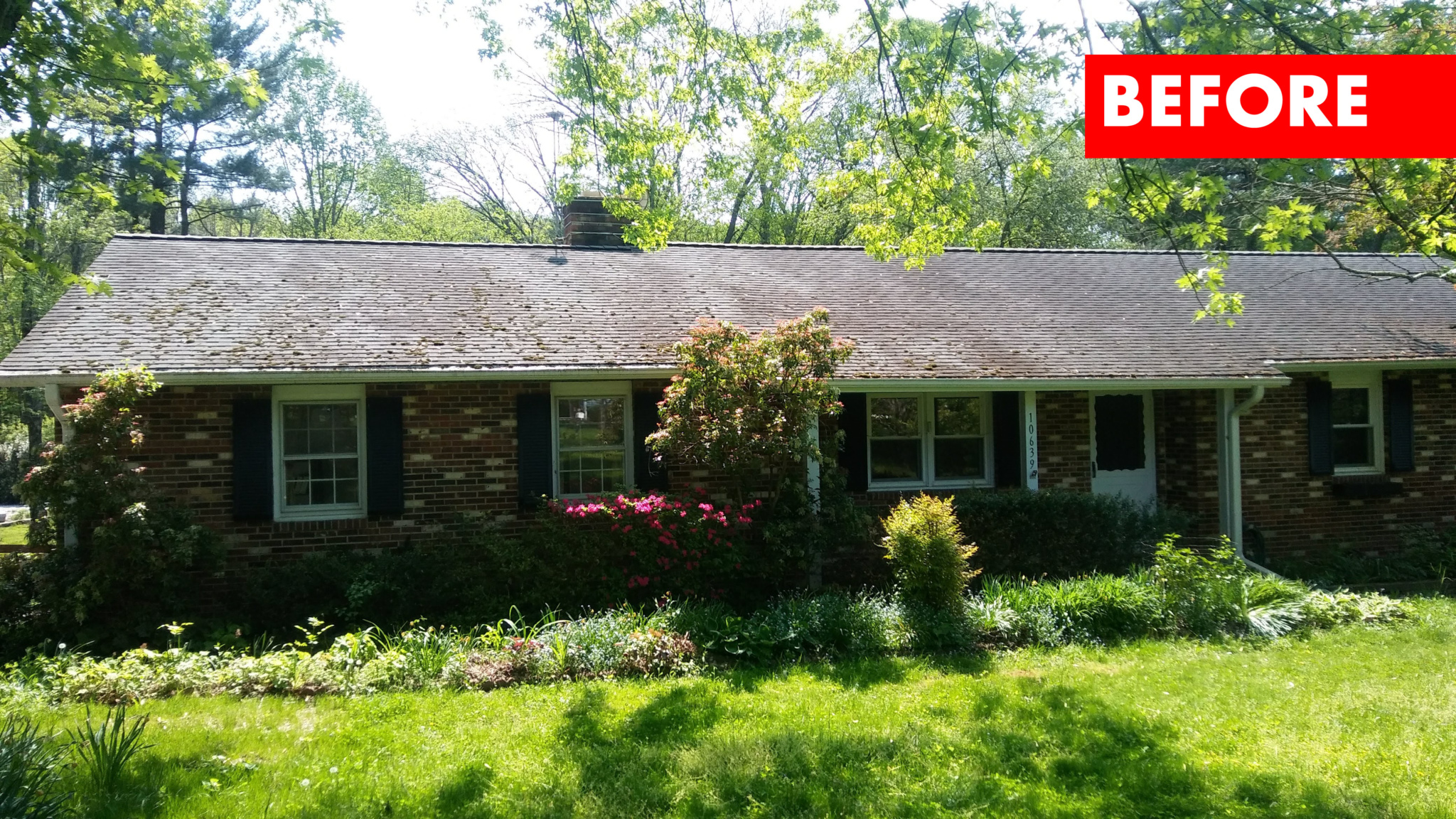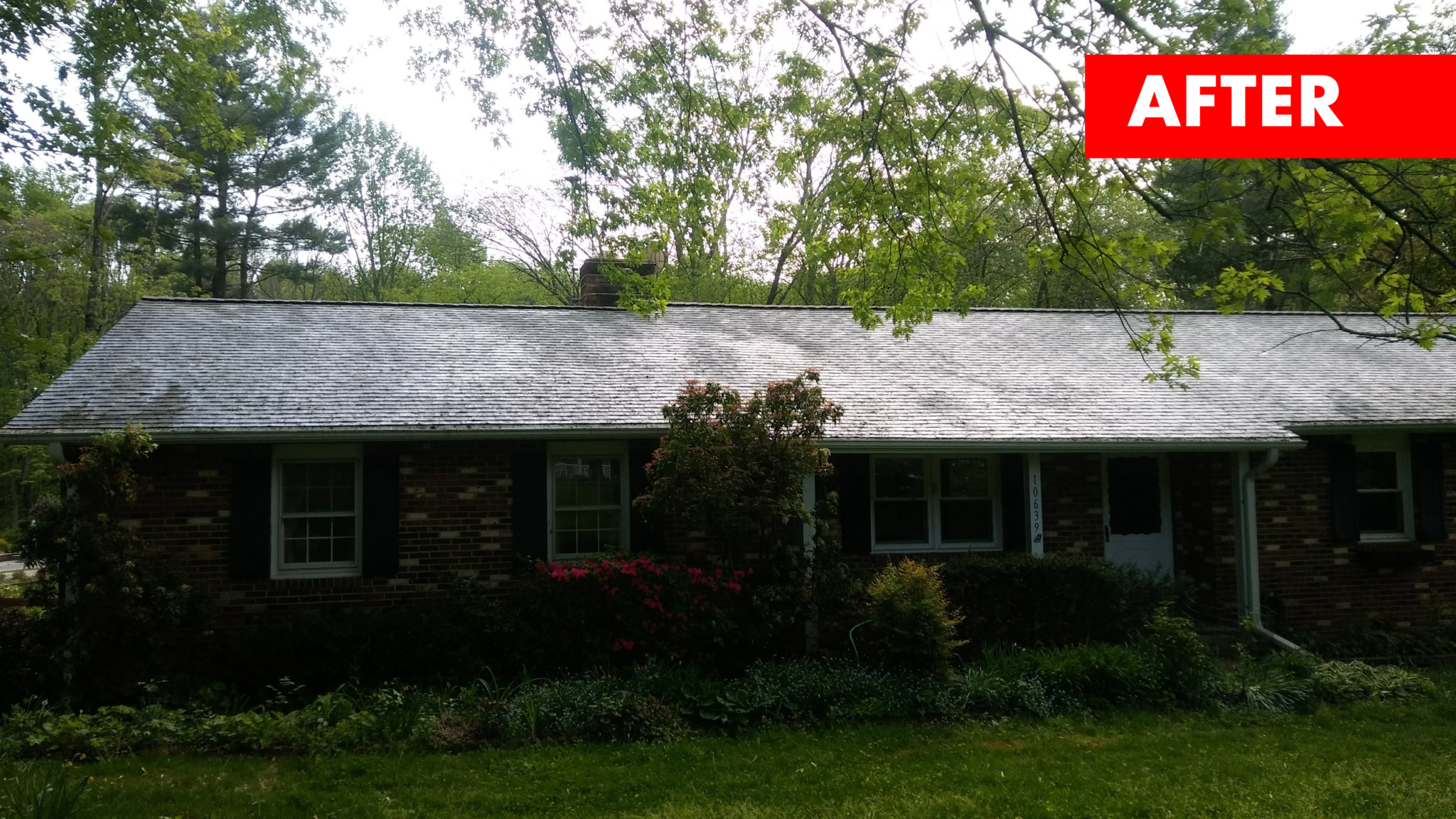 Moss On Roof
The most effective and gentle way to remove Baltimore moss on roof is by way of scraping. A 9 inch trowel can do the job, and it's best to choose the dry day as moss would flake off your roof easily. However, this approach may also involve some grafting and for a big roof expect the odd blister! But when you choose scraping there won't be any flood risk or damage to the tiles.
So why use chemicals?
When you apply moss killer/ fungicide after the moss has been successfully scraped off, it will easily soak the tiles and will also go deep into the overlaps of the tiles and kill tiny moss spores. This will prevent moss from growing back quickly. As a bonus, moss killers also kill lichen, therefore, all those black marks on tiles will slowly fade away within few weeks of the treatment.
No Pressure Washing!
There is a significant risk of flooding to the timers and felt, and even to the loft space when you opt for pressure washing. Although roof has been designed to withstand elements, but it's cannot cope with water coming out of a nozzle at a very high pressure. Mostly water may puddle up on the top of the ceiling. High pressure water can also disintegrate tiles and structure of your roof.
Say no useless and expensive roof coatings
Most of the roof coatings are expensive and is a short term approach to handle Baltimore moss on roof. There's a risk of flooding and this coating also looks terrible after few years. In fact, they are being mis-sold by many many companies in the US.
The manual approach to handle Baltimore moss on roof by applying chemicals might be a old fashioned approach but is time proven and won't damage your tiles. Also there's no need to worry about your paint peeling off the tiles. Manual removal of moss on roof Baltimore MD is also a more cost effective option.
How long does the moss killer last?
Well, assuming that your roof isn't under any tree cover, the moss won't grow back for at least three years, and after four years, there will be only light growth. Therefore, this chemical should be reapplied, thus preventing any moss growth. Moss killing chemicals are cheap and professionals can do the best job at most competitive rates.
Expensive backpack sprayers have a long reach and can complete the job within a short time. Therefore, once the moss has been initially removed, there won't be any need to get on the roof again. Using a backpack sprayer, the chemical can be easily applied from the gutter height. This work is best carried out by specialized companies, and not the ones those who paint roofs.
Can a moss/fungus killer be applied before cleaning the roof?
The answer is no. First, you'd need more chemical as the moss on your roof will soak it much, and second, thick moss layers will prevent the cleaning chemical from soaking into overlaps/tiles. Thirdly, if you want to apply the chemical instead of manually removing moss on roof Baltimore MD with scraper, then you'd have a big problem. The dead moss will wash down your gutters and will block them. This may take months of heavy rains to clear that moss off your roof. Your gutters would also need frequent cleaning.
Awareness about the consequences of moss on roof Baltimore MD is a good first step to tackle the issue. It's important to remember that roof is not only important for the safety of your house, but is also quite expensive to replace. Unlike other household items that need work, roof moss is located on the roof, which is a dangerous place for any novice to work.
Moss slows down the flow of rainwater on the roof and attaches itself to the granules in the composition of the roof, variations in a tile roof, or to the wood in the cedar shake roof. The longer the moss remains on your roof, the harder it is to remove it without causing extensive damage.
There are several methods of moss removal, and only professionals like UniKlean Pressure Washing can do the job in the most professional way. Sweeping, brushing, spraying and drying treatment, blowing and low pressure washing are some methods that show long term results. All their uniformed technicians are bonded and licensed and they're on the top of Angie's list! They offer most competitive rates and complete the job within hours.
Call now to schedule an appointment 410-877-6844
Baltimore Moss On Roof
"When I first received the ad about UniKlean I was pretty skeptical. I never heard about the process and like everything I had to do my own Google research. My house was sitting for sometime before I purchased it and the previous owner neglected the exterior as you can tell from the pictures.The owner of UniKlean came out professionally dressed and presented me with a quote within a day. Before agreeing to the quote he answered my call every time I reached out and was very knowledgeable on the soft wash process.I reached out to other friends who had has their homes pressure washed recently and found out that they needed to get it redone just a year later. Here's what sold me - found out that pressure washing takes off just the surface of the growth but soft washing goes deep into the root of the issue.They also went above and beyond to clean my house which I found out is their normal process. They climbed up and down the ladder multiple times when they saw something they didn't like. My house is completely transformed. My neighbors complemented me multiple times on how great it looks. HIRE this company! I don't write many reviews but I was so blown away that I had to submit a review for this one!!!"
"Quick response for estimate and work. Fair pricing. Exceptional job! Highly recommend!!"
"UniKlean did a phenomenal job! The soft wah looks great"
"Very professional, great attention to detail - Awesome job all around. Made an incredible difference in how our house looks. We live in the woods and with all the rain this year had a lot of green mold on our siding. GONE! Gutters and windows look great too. Couldn't be happier. Highly recommend!"
Contact
Mauris blandit aliquet elit, eget tincidunt nibh pulvinar a. Quisque velit nisi, pretium ut lacinia in.